NavVis employees share what a company guiding principle means to them, and how they strive to embody these values.
People are the soul of NavVis. We're more than the innovative technology we've developed; we're a dynamic, culturally diverse, close-knit group who work together to achieve remarkable things.
One of the ways we make this happen is through our guiding principles. These are seven core values that shape our company culture, which you can learn more about here. In this new series we'll explore one guiding principle in more detail by polling a random group of employees.
This week's guiding principle under the spotlight: "we love spatial technologies." Our technology drives the digitization of indoor spaces. We know and understand our services, our customers, and our industry.
Andreas / Design Team
"My love for spatial technologies manifests itself every day. I'm proud of our company's success and like to watch our own marketing videos for point cloud flythroughs and to see how our customers become successful by applying our technology.
The assembly line of the NavVis VLX is the backbone of our spatial technology. As a co-head of the Design & Engineering Team, I make sure we dedicate not only enough time to the design of NavVis VLX itself but also to the design of the assembly line. With a well-designed production environment, we help our assembly experts to focus on their core competencies: to make sure our devices are built in best quality and in record time."

Melanie / Ecosystem Team
"It means passion for our own products and services; an invested interest in improving our products and transporting this passion to our customers and partners.
I want to ignite the fire for spatial intelligence in our partners. I also want to stay on top of our product developments and contribute to improvements by gathering feedback from customers and partners in the industry."
Annabel / People Team
"This guiding principle mirrors that NavVis is nerdy (in a good way) about spatial technology. We're aware of the value this technology brings to the world and our customers, we consider it innovative, and want to enable others to make use of it. Even spontaneous coffee chats in the office focuses on the latest developments in the spatial technology industry. It's this passion for the topic that keeps everyone going.
In the people team at NavVis we recruit the experts with the in-depth knowledge around spatial technology for our teams. Also, I try and help to further develop the talent in their roles to keep them up to date to industry trends, enabling them to have regular trainings and conferences, I try to help teams celebrate the successes of launching new products and recognize the teamwork around it."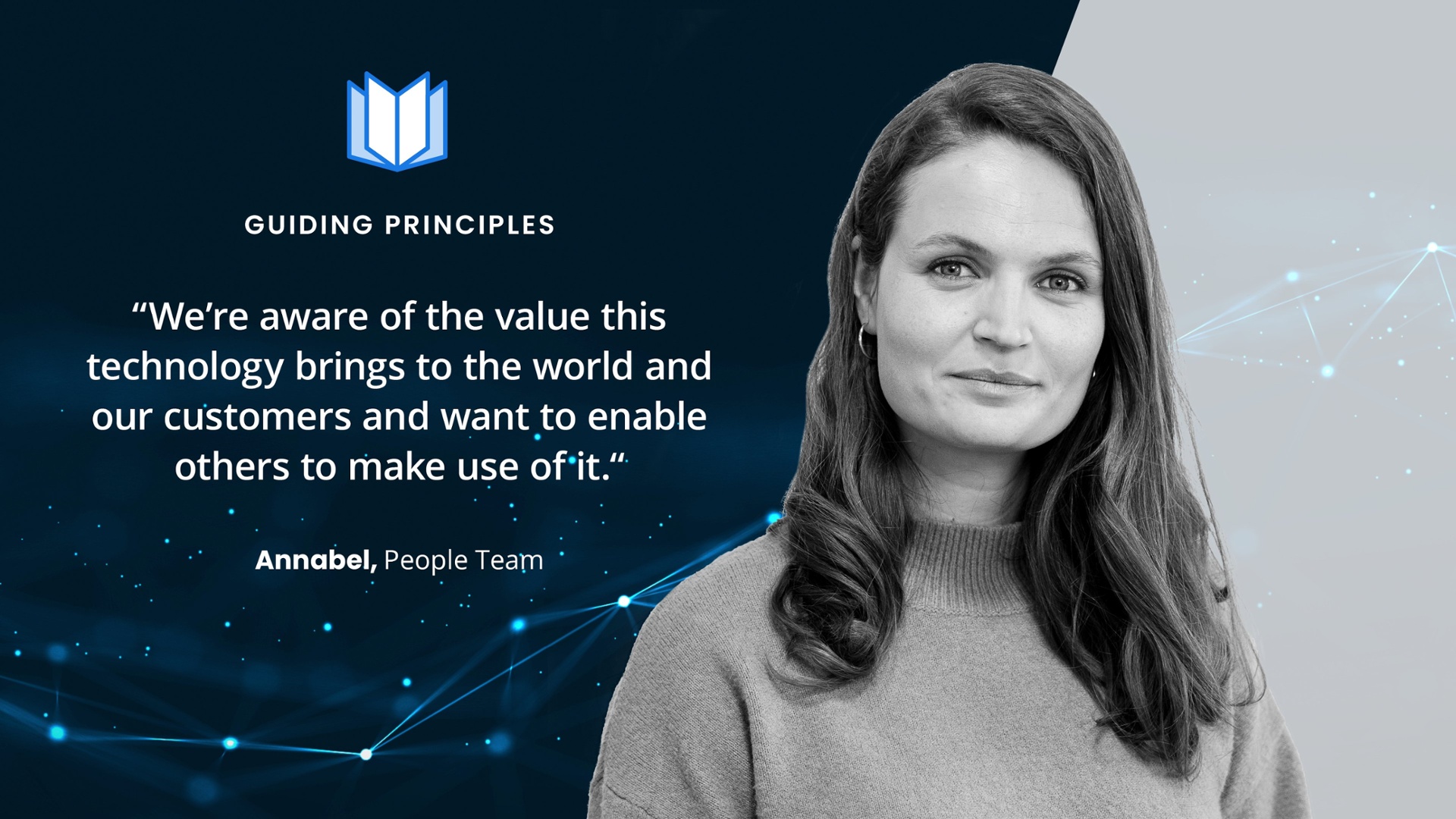 Matthias / Mapping & Perception Team
"I'm excited to learn about new developments in areas that affect our work and products. We always aim to improve our products to deliver the best possible quality and user experience to our customers.
Working in the MAP team, it means that we work on the core parts of the mapping software and thus always try to improve the methods and algorithms that contribute to our spatial technologies."
Matthieu / Sales Team
"I'm convinced that spatial technologies are a key enabler of digitalization because it brings information in a spatial context, which is how humans understand their world.
As a salesperson, part of my role is to evangelize customers on the importance of having virtual 3D representations of their facilities. The easier it is to create this 3D representation, the better. This is why we love our technology. It's efficient, easy to use, and fun."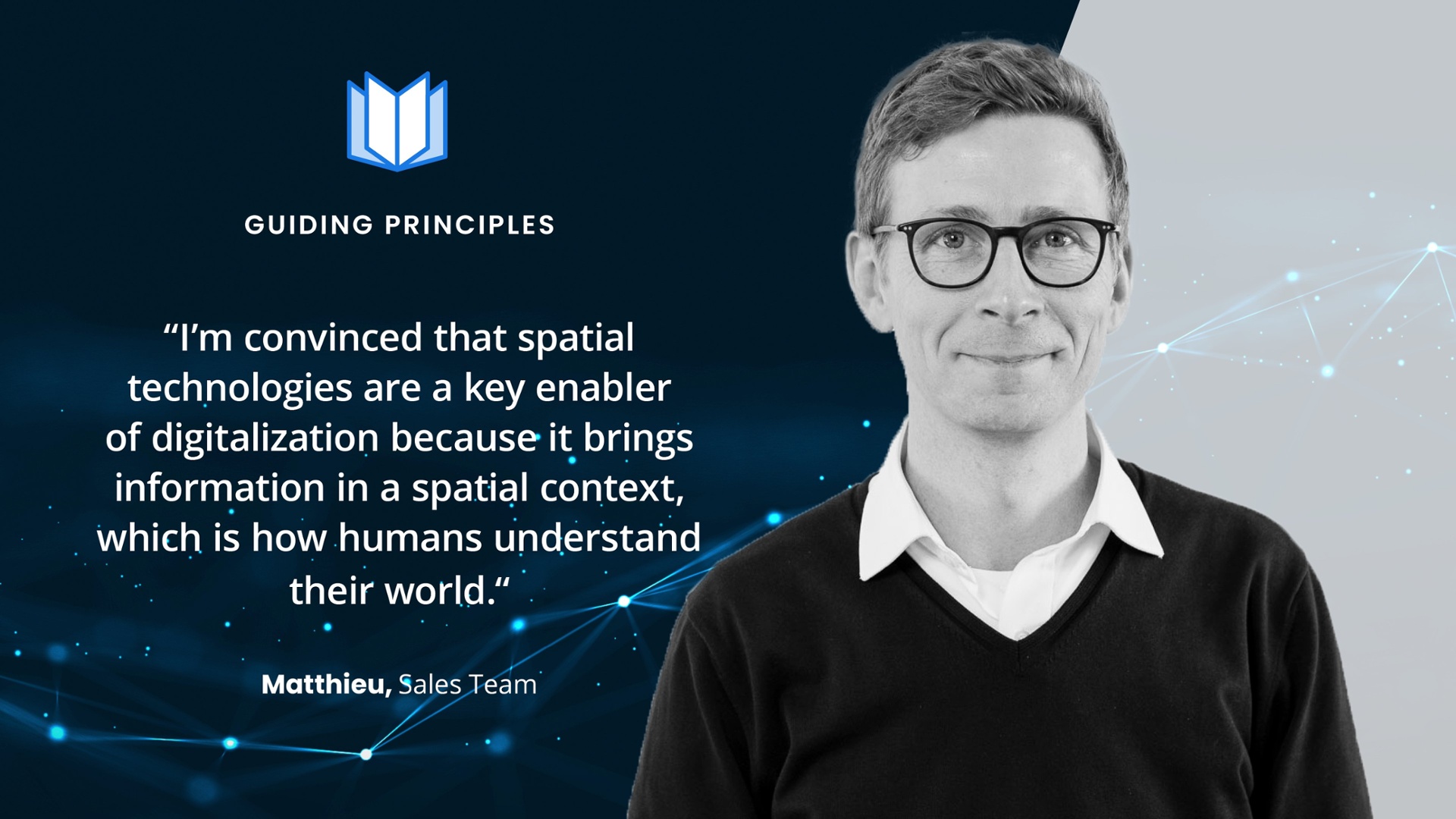 Anastasia-Milena / Navigation Team
"I interpret it to mean that we're experts on multiple aspects around spatial technologies. What sets us apart from other competitors is that we don't only offer hardware and software to capture the world. We also have an intrinsic belief that the data brings value to the customer. To achieve this, everybody is invited to think outside of the box, and consider how our technology can make a customer more successful.
Oleksandra / Solutions Factory Team
"'We love spatial technologies' means that we're passionate about developing innovative hardware and software to capture and visualize indoor spaces, and about revolutionizing the way people think about them. It's about creating something new with something new – a new mindset, new designs, a new way of working, and new possibilities.
On the one hand, I contribute to this guiding principle by listening to our customers and condensing their thoughts and ideas into concrete development directions for our technology. On the other hand, I contribute every time I talk with somebody about NavVis; I share my deep affection for our products and their future potential."