Learn all about how NavVis VLX played a role in digitizing an entire neighborhood in Beijing.
Background
In China, renovating old neighborhoods is of great significance for improving community functions, speeding up the modernization of urban infrastructure construction, and enhancing the living environment of old urban areas. It is also a major project concerning people's livelihood and construction development in China. The state requires that by the end of the 14th "Five-Year Plan" (China's development strategy for 2021-2025), the task of renovating all the old neighborhoods built before 2000 should be largely completed.
The renovation of old neighborhoods is no longer just about accommodating buildings to the elderly and installing elevators; the problem also lies in the large scope of buildings, as well as missing or the complete loss of construction data due to the buildings' old age.
The traditional surveying method hasn't been able to keep up with the pace of urban construction and renovation. However, with mobile 3D laser scanning and surveying technology, one can quickly and easily obtain the actual status of old neighborhoods and complete the renovation with high efficiency and speed as well as low labor cost.
Project requirements and challenges
Create drawings of the building facades within one and a half months and measure the size of the facade and the amount of material required to add the insulation;
Gather information about the location of water and gas pipes in each household and plan the renovation according to the drawings.
The project covers a total of five neighborhoods in Shijingshan District, Beijing, including hundreds of buildings. Having the residents cooperate during the scan is only one problem to solve; the project team also faces the challenge of needing to scan multiple buildings with various apartment types, planning for residents' access to their homes, and even the tricky problem of scanning pipes that are wrapped in the walls.
Solutions
NavVis VLX is a mobile 3D laser scanner with an industry-leading SLAM algorithm that can provide a global accuracy of 6mm in a testing area of 500 sq meters. It allows fast and comprehensive data capture of space and objects. With its real-time view, high accuracy, and digitization features, it provides data support for drafting, elevation measurement, and accurate accounting.
After importing the data scanned by NavVis VLX, NavVis IVION can display panoramic images and 2D maps, enabling the users to have a clear overview of the data of the scanned area. Point cloud data can also be imported into other mapping software to help create drawings, saving the need to repeatedly check building information onsite, therefore improving work efficiency.
Key steps in project implementation:
There are two main aspects: data capture onsite and data processing.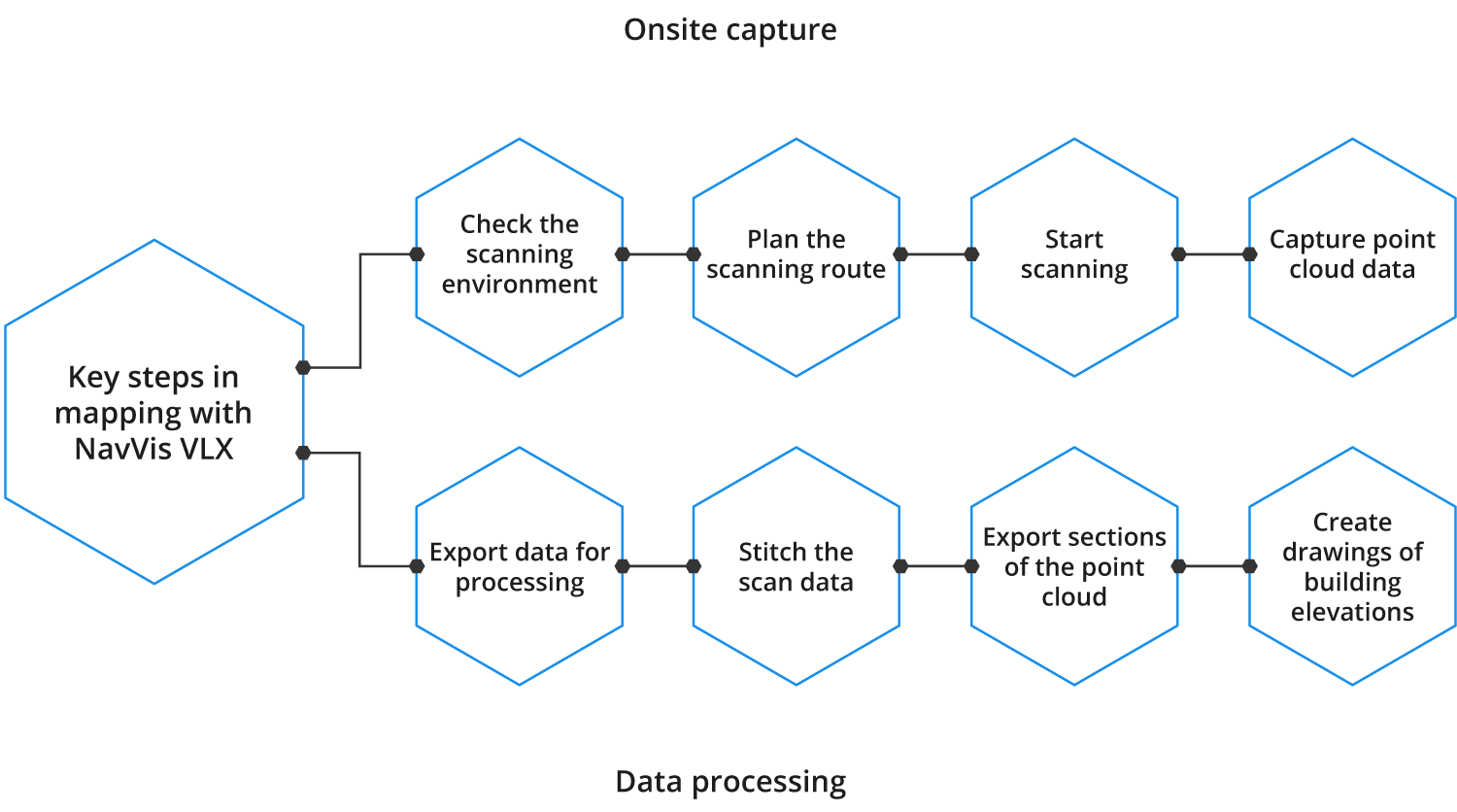 Data capture onsite:
Check the scanning environment: check the surrounding environment and the district building and confirm the route before scanning.
Onsite training: conduct a general project training to explain the scanning and mapping requirements before the scanning begins.
Onsite laser point cloud data capture: follow the scanning routing and complete loop closures to improve data accuracy.
Check the scan results: check the NavVis VLX user interface to see if the number of scans matches the planned number; rescan the missing areas and make necessary changes in a timely manner.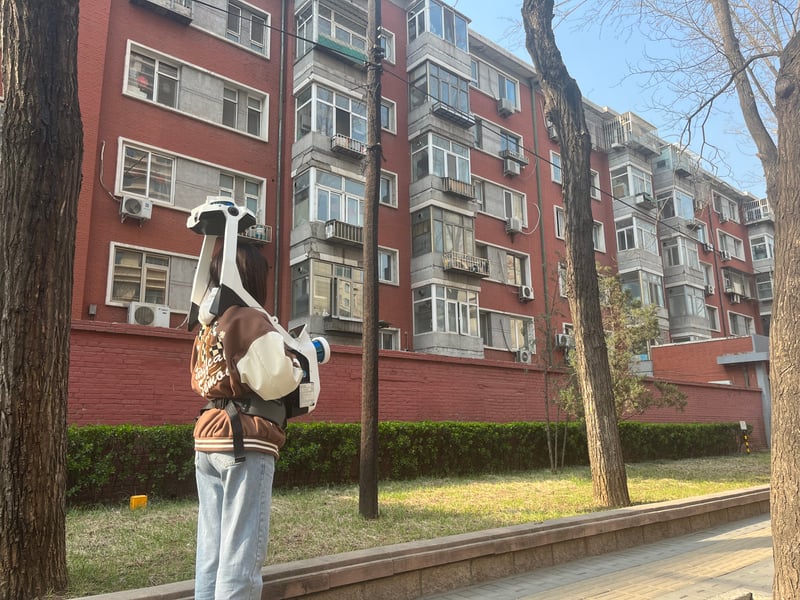 Data processing:
Data export: export ready-to-use data directly from the device without the need for data alignment.
Drafting: generate as-built documentation with unified standards; use mapping software to draft building elevations and sub-floorplans based on the point cloud data and the as-built condition.

Quality control of drawings:

document the drafting requirements.
| | |
| --- | --- |
| NavVis VLX point cloud | Point cloud drawing |
| | |
| | |
Increased value
NavVis VLX mobile 3D laser scanner was able to capture the data of five neighborhoods, including about 100 buildings in Shijingshan District, Beijing, in just one week, which is more than 10 times faster than the speed of traditional terrestrial laser scanners (TLS).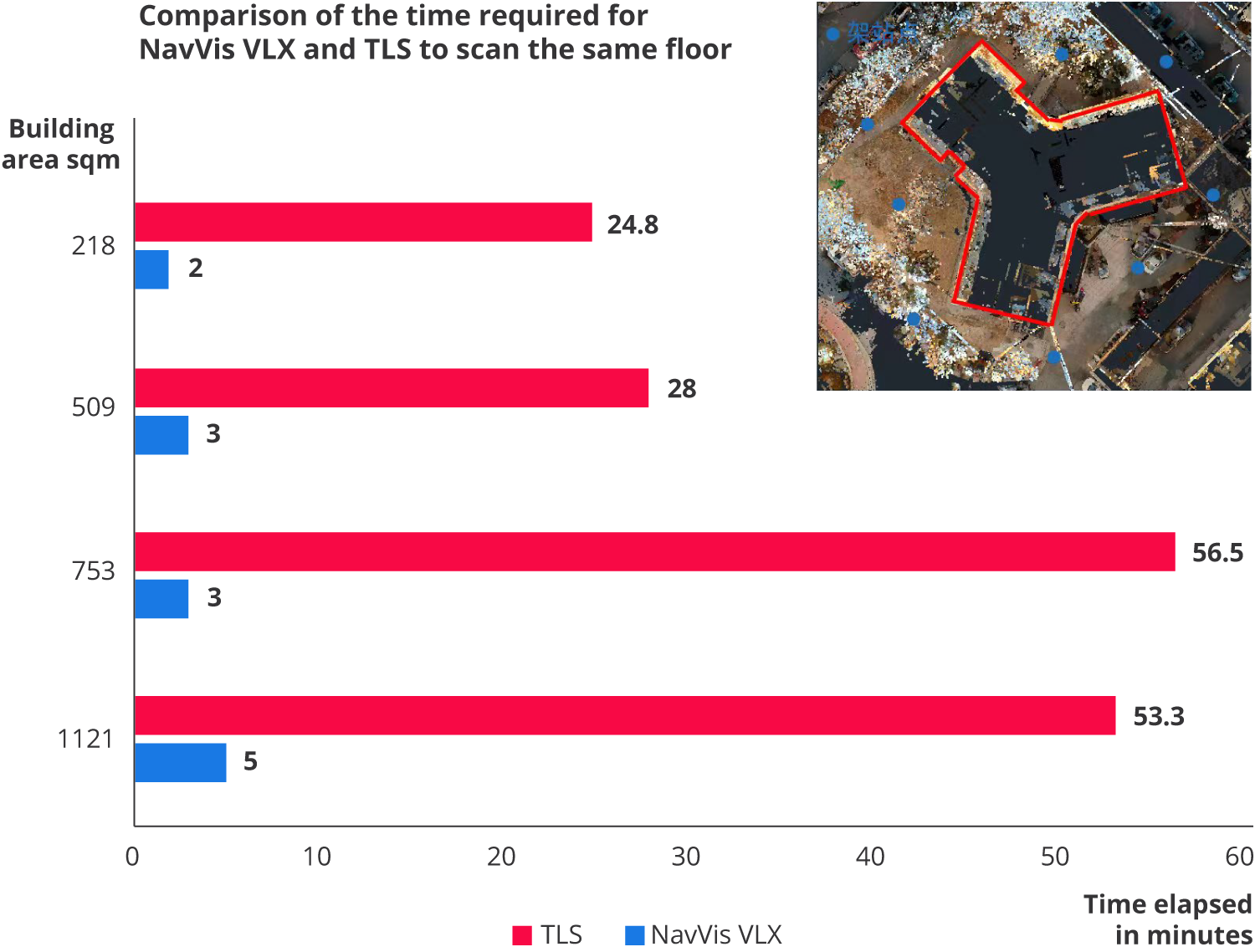 Advantages:
Documentation of the as-built condition; retaining a reliable and realistic image of the old neighborhoods before its digitization through 3D data.
Highly accurate and realistic 3D models: the data captured by NavVis VLX can provide a realistic basis for renovating old neighborhoods and help in construction planning and decision-making.
High level of visualization with measurable and comparable data before and after the digitization: can be applied to construction management and audit settlement, reducing disputes between the parties involved in the project.
Fast and accurate, with realistic images: combined with a design software application, it visualizes the data of the old neighborhoods and creates 3D models with speed; in comparison to traditional surveying methods, it reduces manual labor and material requirements, saves the surveying time for other works such as design planning and bidding.
Comparison points

Traditional surveying method

Terrestrial laser scanner

NavVis VLX

Tools
Tape, laser rangefinder, total station, drawings
3D laser scanner
Measurement methods
Hands-on, close-range measurement, affected by light
Non-contact, long-distance measurement, not affected by light, can be used during the day and the night
Manual drafting onsite
Required
Not required, automatic generation of 3D data
Efficiency
Low efficiency, can only measure point-to-point distance, strenuous physical activity
Complete a single-station panoramic scan in 30 minutes (in a 500 square meters building)
Complete a single-station panoramic scan in 3 minutes (in a 500 square meters building)
Level of security
High risk and limitations
Non-contact measurement for personnel safety
Result
Mark the measured point-to-point distance on the drawing
Point cloud data can be imported to Revit, AutoCAD, 3D MAX, and other software; single-station image is available
Point cloud data can be imported to Revit, AutoCAD, 3D MAX, and other software; panoramic walk-through and measurement information can be viewed in NavVis IVION
Modeling
Create CAD drawings according to the manual drafts onsite and then generate 3D models based on the drawings
Efficient reverse modeling based on the point clouds
Accuracy
The rescanning areas are only based on people's experience. The scanned data is influenced by personal factors and tend to be overgeneralized and have low accuracy.
The comprehensive overview of the as-built condition is accurately reflected through 3D point cloud data. Areas that are hard to access can also be covered in the scan, which provides highly accurate measurements. High accuracy helps avoid rework costs.
Technical requirements
A team of experienced surveying professionals
The use of the 3D scanner and how to process point cloud can be easily learned. The training only takes one day.
Applicability
Only in regular, uncomplicated building structures
Applicable to all building structures, especially for complex or large building areas that contain space that is difficult to access, as well as projects with high accuracy requirements.
Visualization
2D measurements
Point cloud data as the overall 3D spatial information with a moderate level of visualization.
Point cloud data as the overall 3D spatial information, with a high level of visualization provided by the 3D visualization platform.