Intergeo 2022 was a major hit. Find out all the exciting things that went on at the NavVis booth!
Bringing together over 14,000 geospatial and IT professionals from over 102 countries, this year's Intergeo Expo and Conference in Essen, Germany, was one of the most highly anticipated events on the calendar. Providing a backdrop for connecting with industry peers, customers, partners, and friends, we seized the opportunity to share just how far we've come with an unashamedly bold booth at the expo entrance.
Our theme to BUILD BETTER REALITY emanated from our 168 sqm booth, and with NavVis VLX mobile mapping devices fully charged and the team smartly dressed and ready to go, the stage was set. As the doors opened on day one, we were truly overwhelmed by the huge interest and demand in mobile mapping.
In fact, over the three-day event, we met with over a thousand visitors at the booth and connected with hundreds more during our live-streamed program of presentations, from seasoned professionals to young surveyors and students.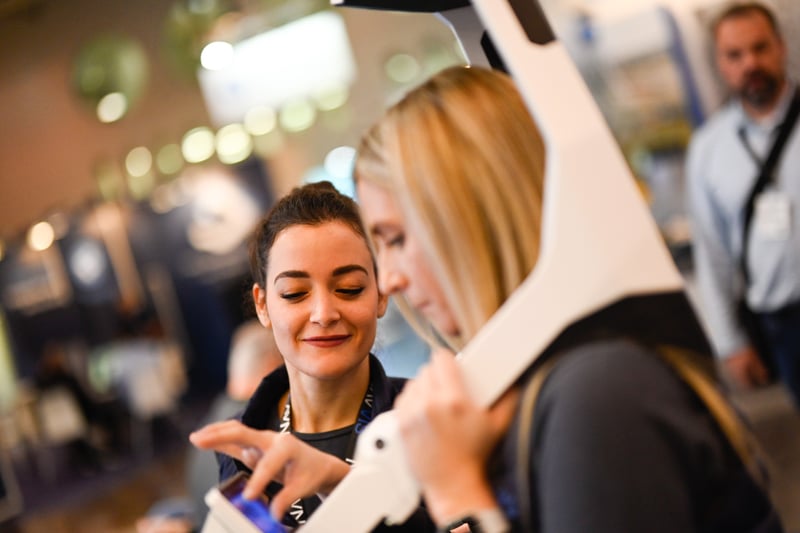 Cloud computing and dynamic scanning were hot topics that dominated our dedicated seminar space, where we welcomed customers and partners from around the world to present live from the booth.
Presentations at the NavVis booth
Marigone Selimi, Team Lead - Reality Capture at Skanska Norway, joined Heidrun Gabcke, Senior Account Executive for NavVis, to discuss SLAM-based laser scanning for construction applications.
Selimi comments: "We're used to delivering high-quality data to our clients, and we don't compromise on accuracy, so scaling to a different solution was critical to meet our customers' expectations. NavVis IVION is a game changer. It's a new generation of delivering data to our customers."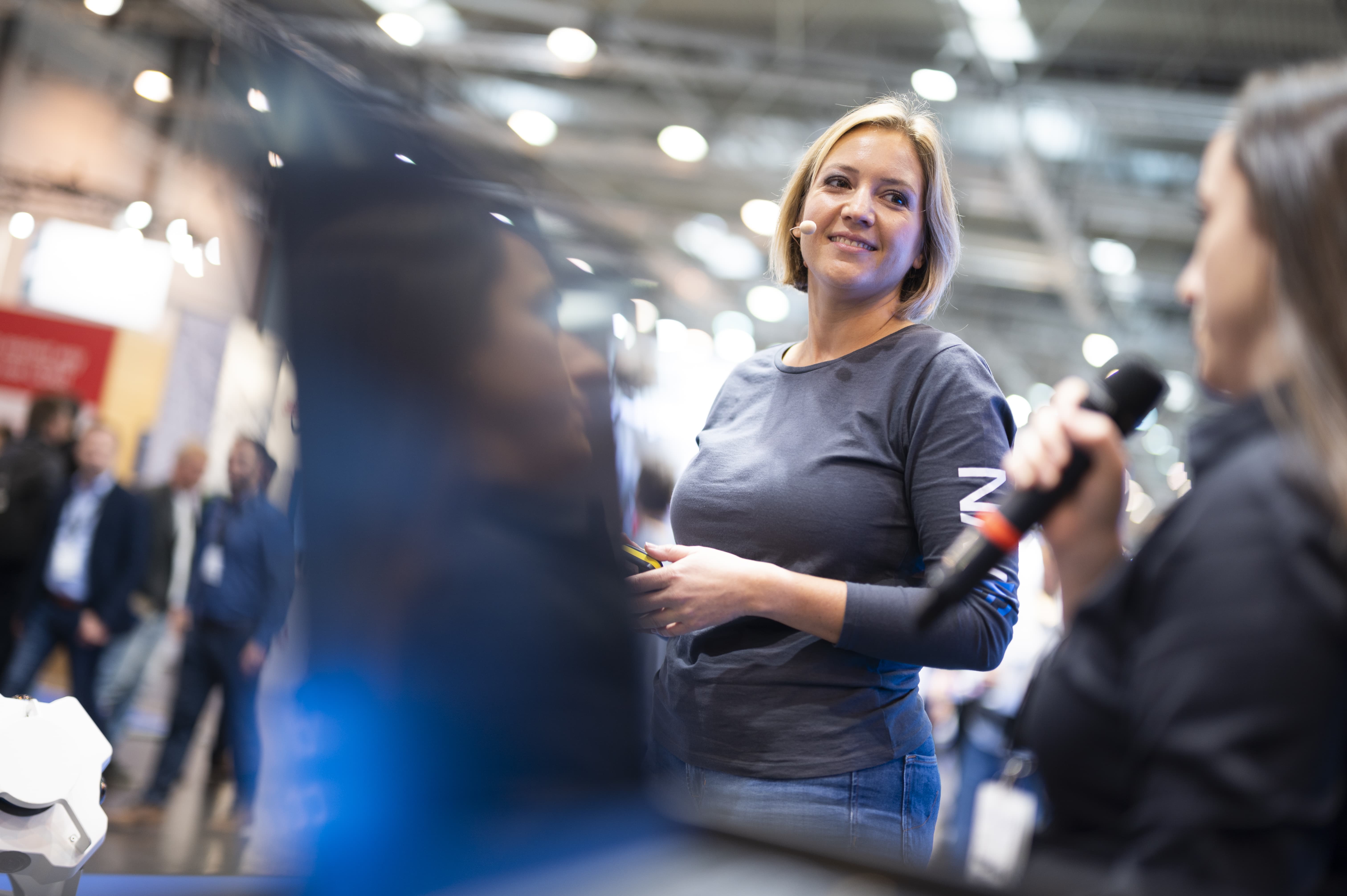 Flying in from Australia for the show, Market Development Manager Geoffrey Preece from Position Partners Pty Ltd took to the podium to talk about what they've learned about NavVis VLX from a reseller perspective.
"People really love to engage with NavVis VLX, particularly people who are passionate about technology. We've had very positive feedback from first movers. NavVis VLX makes their job easier, they love to use the equipment, they produce work a lot faster than they would with a TLS. Surveyors in the field love it, but also their managers appreciate the ROI on investing in the technology, which has actually been a lot faster than they initially forecasted."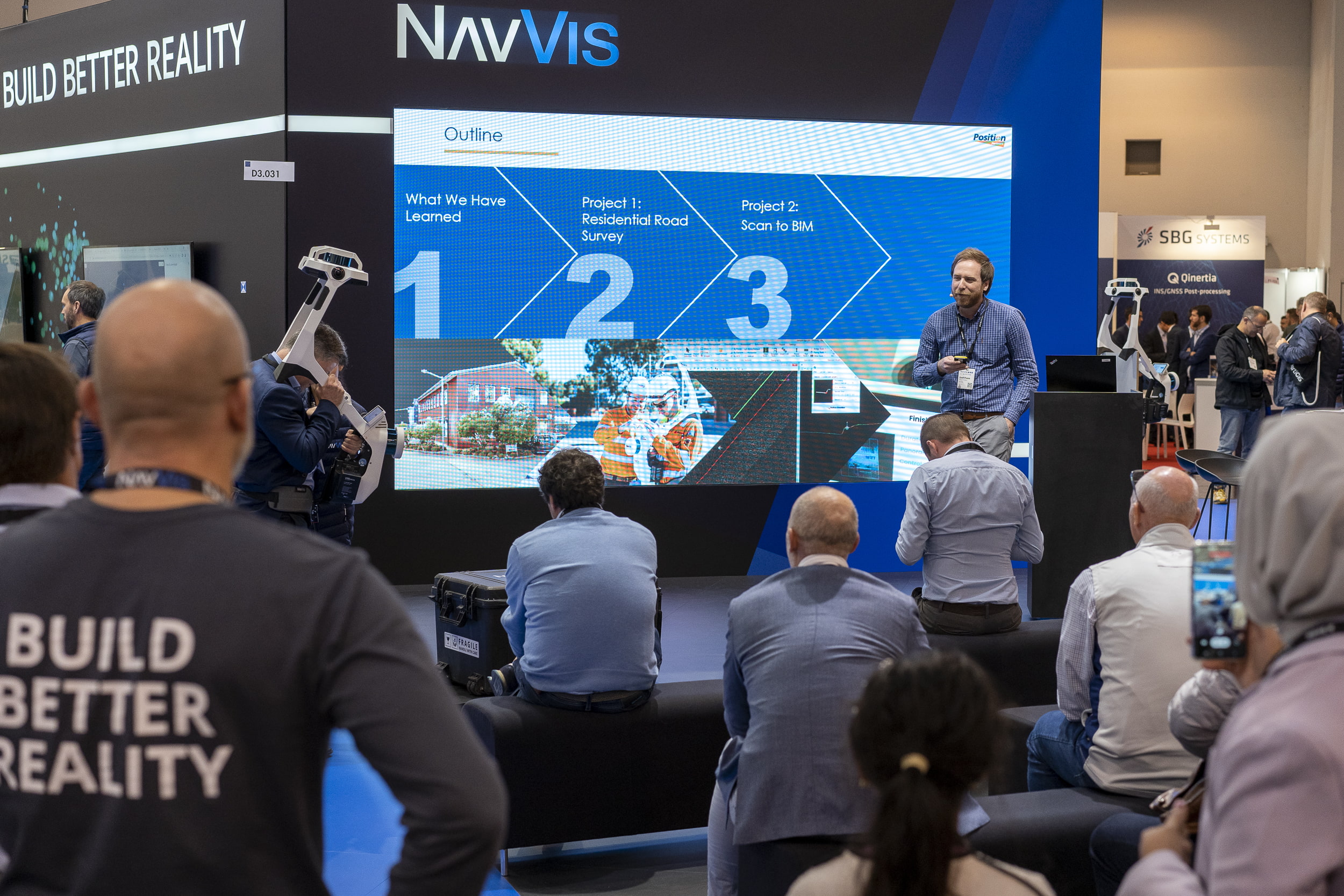 Other presenters included Jörg Jungedeitering from our software partners DiConneX GmbH, examining ways to unlock the potential of the digital twin, optimize processes, and increase profits with their DiConneX platform.
NavVis on the INTERGEO stage
"Inspiration for a smarter world" was the key theme for Intergeo's main conference, placing a spotlight on current developments in surveying with trending topics, including 4D geodata, geospatial IoT, and climate change. Our Solutions Manager Evelyn Schmitz and Customer Success Manager Veit Streicher were honored to take part in a panel session with other industry heavyweights, including Dr. Alexander Kappes and Prof. Dr.-Ing. André Borrmann, to discuss what added value reality capture and mobile mapping could bring to the BIM and architecture industry.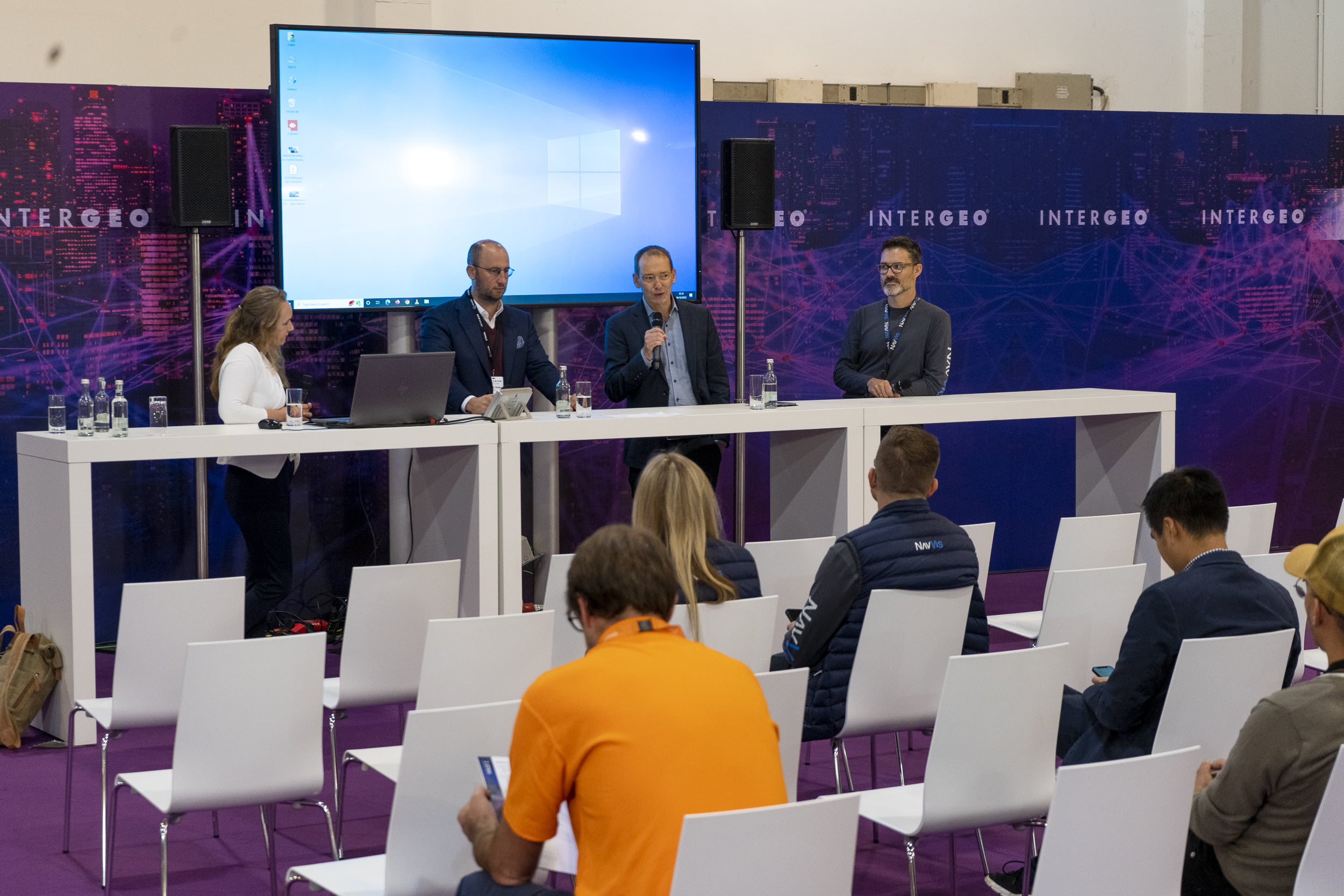 Felix Reinshagen, our CEO and co-founder reflects on the show
"Since the last Intergeo, so much has changed for us as a company. We've seen tremendous growth, doubling our international team, opening a new UK office, and adding more partners and dealers to our network. Dynamic scanning has really arrived in the mass market, and customers are transitioning from using NavVis VLX for special projects to becoming the centerpiece for their reality capture efforts, complemented by drone and TLS scanning. This is only made possible because the technology is driven by cloud processing, speeding up workflows and adding new capabilities faster than ever possible."
"The industry is moving towards cloud-based data processing and usage, so we've made significant strides on the software side with NavVis IVION, applying machine learning, cloud computing, and artificial intelligence to get more out of the raw data. More accuracy, vibrant colors, and higher resolution as well as new software products with blurring capabilities for data sensitive applications, data segmentation, and object recognition, which is where the future of the geospatial sector is going."
Check out the full interview here.
Wrapping up
Intergeo is the biggest event of its kind anywhere in the world, and the team excelled in delivering a professional, high-energy, and enjoyable event we could be proud of. We're already looking ahead and building upon our success this year, so see you in Berlin from 10 to 12 October 2023!
We're actively looking for talented forward-thinking professionals to join our community of tech enthusiasts, so if you're interested, get in touch!